The National PROMs Network is a network of individuals committed to working together to share experience and support in the relatively young but rapidly growing area of collecting and using Patient Reported Outcome Measures.
Initially focussing on orthopaedics, it has become clear that there is a real need for such a resource across many specialities for people who have been given "PROMs" as part of their regular job. Support and educational understanding of what the data represents has widened our membership to include researchers, platform developers, and academics in addition to surgeons, managers, nurses, physiotherapists and other healthcare teams. Recently we have gained new members as more organisations are appointing dedicated staff for PROMs collection and we have been proud to support and advise them.
Following a workshop to explore the idea, the PROMs Network was created to allow organisations to start
working collaboratively with the aim of standardising PROMs collection and analysis nationally. All levels of staff engaged in PROMs use are able to join the network to share experience and support on processes for collection, analysis and benchmarking. Our aim is to ensure transparency and effective utilisation of PROMs by providing a central resource of experienced individuals to work with clinicians, managers, administration and I.T teams, developers, researchers and academics.
Working groups were formed to look at four key areas:
Which PROMs to collect (Working group 1, Led by Mr Ajay Malviya, Consultant Orthopaedic Surgeon)
The current processes for collating PROMs (Working group 2, Led by Anji Kingman, Clinical Outcomes Manager)
The development of open source software for the collection and analysis of PROMs data (Working group 3, Led by Mr Kanthan Theivendran and Professor Mike Reed, Consultant Orthopaedic Surgeons )
The analyses and uses of PROMs data (Working group 4, Led by Sammy Davies, Quality Outcomes Manager)
If you would like to join the network please complete our short form telling us a little about yourself and send to us at: co-ordinators at promsnetwork.co.uk
Meet the team
Anji Kingman is the Clinical Outcomes Manager at Northumbria Healthcare NHS Foundation Trust, running the extensive elective orthopaedics PROMs programme there. She is also PROMs and Administration lead for the UK Bone and Joint Infection Registry, and project coordinator for openOutcomes. Anji has recently joined the UK Faculty of Clinical Informatics as an Associate member.
Sammy Davies is the Quality Outcomes Manager and Chief Outcomes Analyst for The Robert Jones and Agnes Hunt Orthopaedic Hospital. She is responsible for manging the PROMs data collection for all procedures/treatment that takes place in the trust, also analysing and reporting the data. Sammy is also studying for her Data Scientist Degree at Keele University.
Mr Kanthan Theivendran is our Lead Consultant and is an orthopaedic consultant at Sandwell & West Birmingham. Twitter: @KTheivendran Mastodon: @kanthan@mstdn.social
Professor Mike Reed and Mr Ajay Malviya, orthopaedic consultants at Northumbria Healthcare Foundation NHS Foundation Trust continue to lead their PROMs Network working groups and are our founding clinical leads.
Our other consultant leads include Professor Paul Cool, at RJAH and Mr Ben Coupe at Wrightington who help to better facilitate partnership working and regional support.
Sadly we have lost a beloved friend and colleague, Rebecca Lafferty (Wrightington) whose input, wit and insight are sadly missed.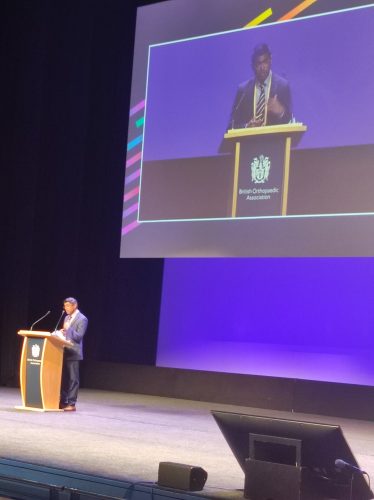 Site hosted and supported by DivisionX with thanks